For instructions on installing the Dart or Flutter extensions, go here.
v2.12.0 2018-04-26
Support for Flutter Profile and Release Modes
You can now create launch configurations for profile and release modes for Flutter apps. For now, this requires you to create a launch.json and set the flutterMode argument.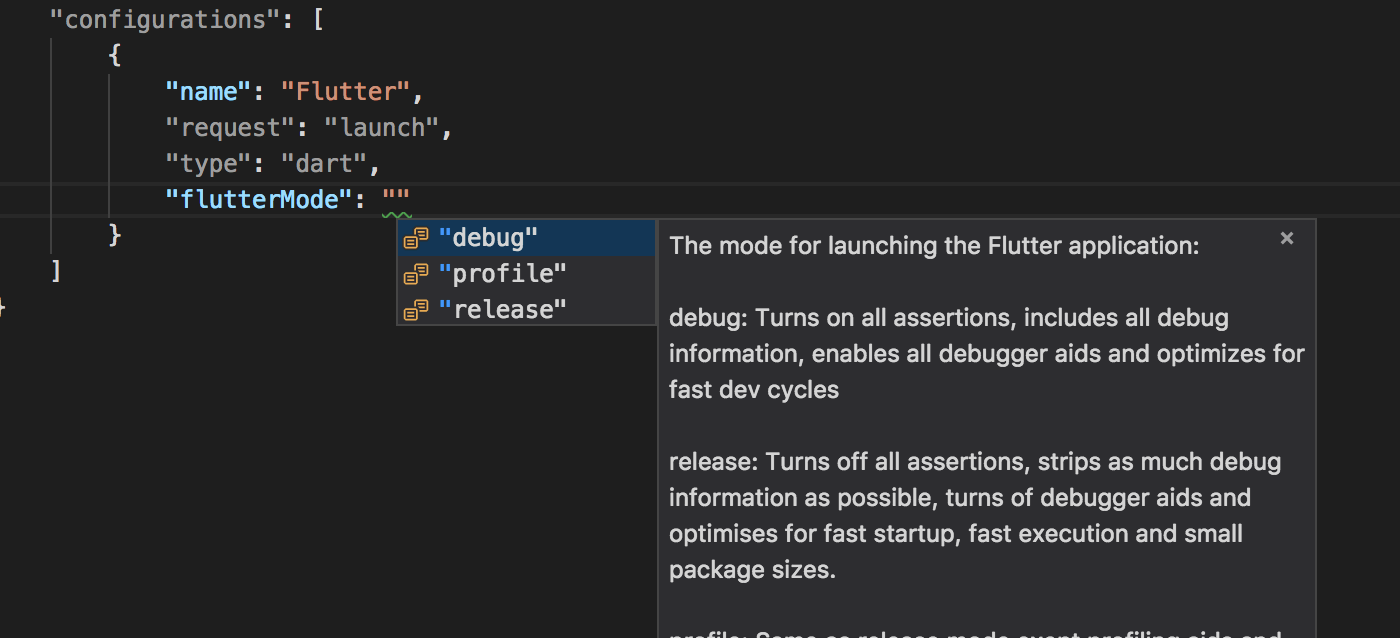 For more information on using profile and release modes, see Running Flutter Apps in Profile or Release Modes.
Flutter Memory Usage Monitoring
When running a profile build (or if you set showMemoryUsage in your launch configuration) the total memory for your applications heaps will be shown in the status bar.

Note: This is heap usage and not total process memory. In debug builds it may not be reflective of actual usage in a release build.
Progress Notifications for Long Running Tasks
Long running tasks like Flutter: Get Packages and Flutter builds will now show more obvious progress notifications with progress animations.

As part of this, these actions may also now be cancelled from the x in the notification.
Flutter Icons in Tooltips and Completion Descriptions
Flutter icons now show correctly in tooltips and completion descriptions instead of chunks of HTML.

Extract Widget Refactor
An Extract Widget refactor is now available on the lightbulb menu that creates a new Widget class and inserts a call to its constructor in the original position.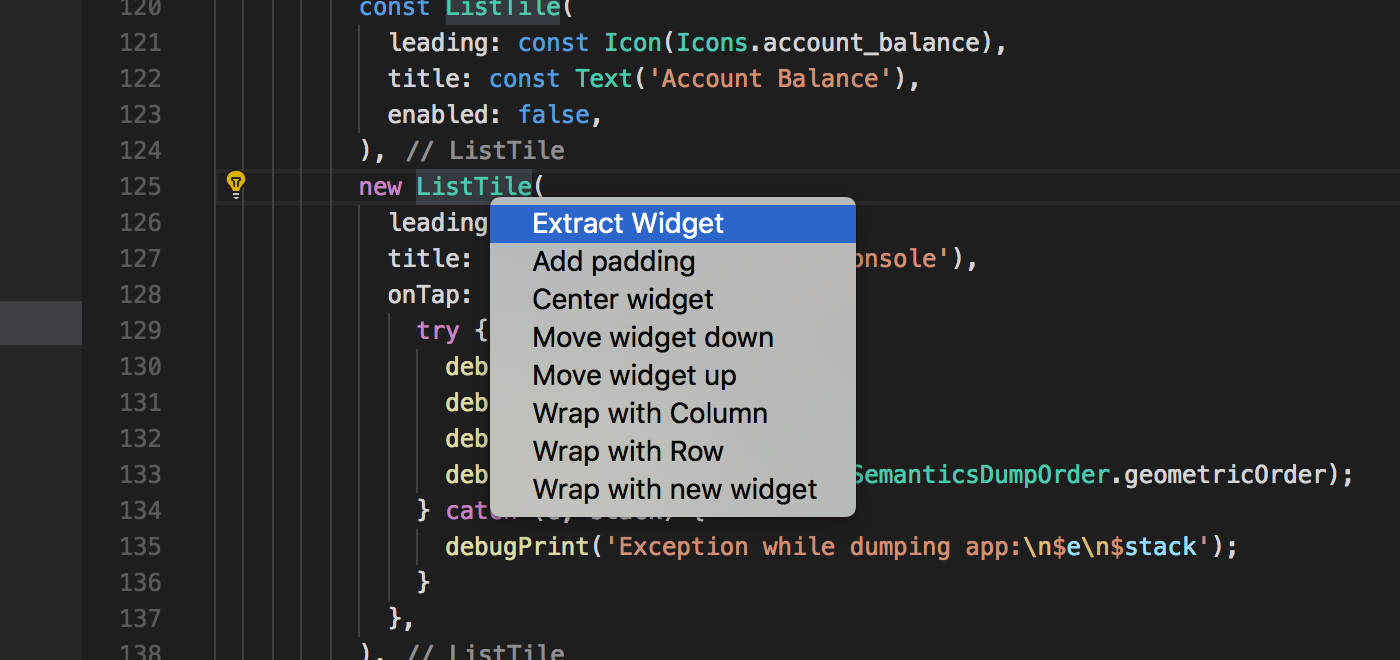 Extract Method Refactor
An Extract Method refactor is now available on the lightbulb menu.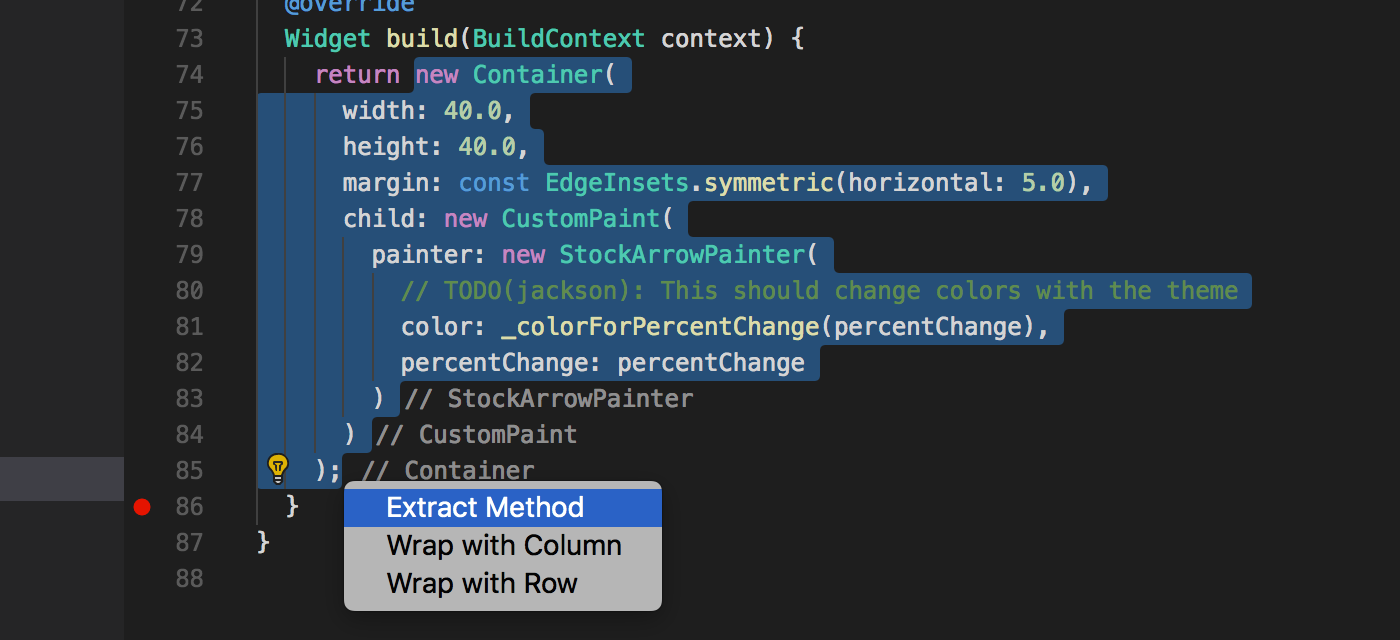 Better Feedback for Failed Renames
Failed renames will now show errors directly in the editor instead of window-scoped notifications that require dismissing. In an upcoming VS Code release we will stop the rename input box from appearing at a location that does not support a rename.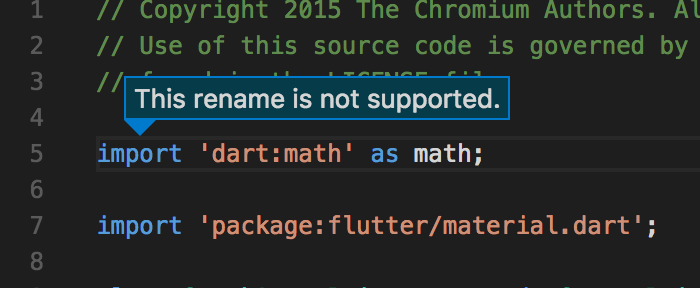 Preview: Better Handling of Windows Paths
A new setting (dart.previewExperimentalWindowsDriveLetterHandling) has been added. Setting this value to true will cause all drive letters to be converted to uppercase when Dart Code interacts with services like the analysis server. This should fix a number of issues affecting Windows users (unexpected errors like Type 'x' cannot be assigned to type 'x' or completion and errors not updating when referencing code with package: imports). In future this behaviour may become the default so please try it out and send feedback.
Other Changes
Exception messages shown in popups during debugging are no longer truncated
Pressing F5 in a Flutter project will no longer pick bin/main.dart to execute over lib/main.dart
More output from flutter run will be shown in Debug Console
The display of lists and maps in the debugger variables pane has been improved
The Add to Watch action on variables (in the debugger variables pane) will now correctly populate watch expressions
Slow Mode Banner is now known as Debug Mode Banner
@343max contributed a dart.flutterSelectDeviceWhenConnected setting to control whether to automatically select the most recently connected device in Flutter projects (defaults to true to preserve current behaviour)
Organize Imports is now bound to Alt+Shift+O by default
A new dart.organizeDirectivesOnSave setting has been added
CPU usage while moving the caret/selection around the editor should be much lower
Code's automatic indentation detection will be disabled for Dart since sometimes it picks 4 spaces based on line continuation indenting
A new Go to Super Method command has been added
Find References will now also include the declaration
TODOs will once again appear in the Problems pane if you set the dart.showTodos setting to true
Formatting of the hover tooltips has been improved
Tooltips will no longer show on import prefixes (there was no useful information in them)
Duplicate code fixes will no longer show in the lightbulb menu when there are multiple on the same line
@aemino contributed a fix for ligatures not working correctly on => due to them being considered individual tokens
Analysis of AngularDart now enabled by default (requires a v2 dev SDK) and can be controlled with the dart.analyzeAngularTemplates setting
The error message shown when the analysis server fails to start will now be more appropriate
Upstream Issues
Some feature requests and fixes require new features and fixes in upstream projects like VS Code and LSP which use counts of 👍s on those issues to help gauge demand. The Dart-Code website now lists some of the most significant upstream issues with a description of the feature/fix they would enable. Please consider reviewing this list and adding your 👍 to any GitHub issues relevant to features you'd like to see!