For instructions on installing the Dart or Flutter extensions, go here.
v3.19.2 2021-02-06
#3125: Windows users should no longer see spurious "Your Dart SDK has been updated" messages, believed to have been caused by the SDK's version file being accessed and not modified.
v3.19.1 2021-01-29
Test Runner
#3060/#3100: The Run/Debug Failed context menu items are now available on group nodes in the test tree in addition to suite notes.
#3093: Test suites should no longer be re-sorted during runs causing them to move around. If their status changes to failed, they will still be promoted to the top.
#3058: The "Run All Tests" command now correctly removes stale tests after completing (for example, tests that had been renamed).
#3052: Test Discovery should no longer result in duplicate nodes in the test tree on Windows.
#3038: Skipped tests can now be hidden from the test tree.
#3049/#3053: A new command Clear Test Results removes all test results from the test tree until they are next run/discovered.
#3050/#3084: New toolbar buttons and a menu have been added to the top of the test tree for running tests, clearing test results and for toggling visibility of hidden tests.
#3094: Test icons have been (slightly) updated.

LSP Semantic Tokens
#2202: LSP's Semantic Tokens are now supported by Dart Code. In order to use semantic tokens you need:
Dart Code v3.19.0 or later
To have the LSP Preview enabled (see the dart.previewLsp setting)
A Dart SDK v2.12 or later or a Flutter SDK containing the same (these changes are not in the stable channels at the time of the Dart Code release)
Semantic tokens fix a number of inconsistencies in syntax highlighting that were not easily addressed using the original textmate grammar. Below is a screenshot comparing the original colouring (left) and new colouring (right).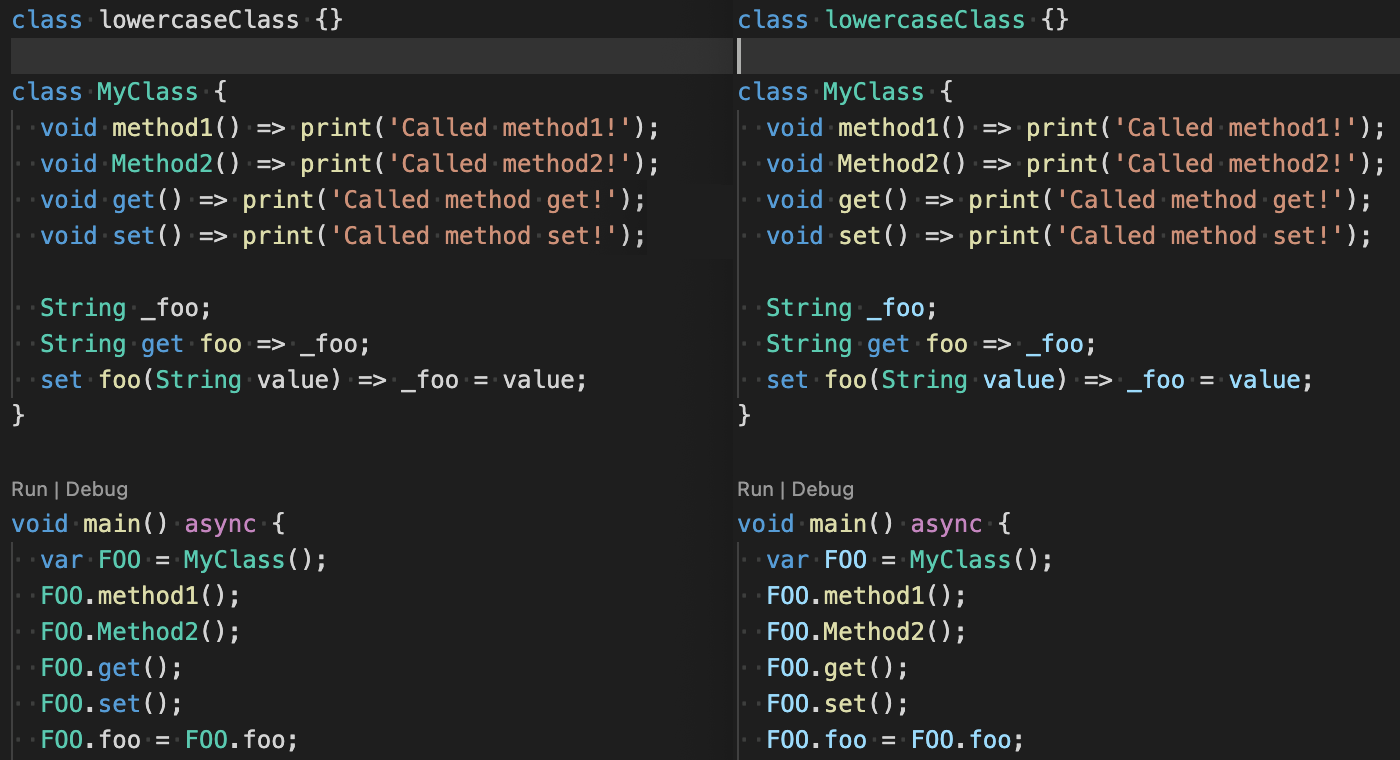 Some specific issues this addresses:
LSP Improvements
Items here and in subsequent sections marked "(requires SDK update)" rely on changes in the Dart/Flutter SDKs so may not be immediately visible depending on your Dart/Flutter SDK channel (these changes are not in the stable channels at the time of the Dart Code release).
Flutter
Editor
DevTools Integration
#3064: DevTools can now be started without an active debug session, allowing you to connect to an application not launched from VS Code.
#3063: The Open DevTools command is now listed in the Flutter category in addition to Dart.
The following items rely on changes in the Flutter SDK and DevTools so may not be immediately visible depending on your Flutter SDK channel (these changes are not in the stable channels at the time of the Dart Code release).
#3086: VS Code now shares its DevTools instance with Flutter to support deep linking.

Debugger
#3033: Hot-reload-on-save no longer fires for Save events triggered by VS Code's auto-save feature. Pressing Save manually will still trigger a reload even if there are no unsaved changes.
#2974: The debuggers request for the top stack frame is now satisfied using the VM pauseEvent's topFrame, reducing latency when the debugger breaks; this is a performance optimisation that mostly affects web.
Documentation
#3046: @kagouda updated references to the Flutter: New Project command in docs to the new name Flutter: New Application Project.
#2824: The build_runner tasks have been added to the Tasks page with a link to build_runner documentation.
Upstream Issues
Some feature requests and fixes require new features and fixes in upstream projects like VS Code and LSP which use counts of 👍s on those issues to help gauge demand. The Dart-Code website now lists some of the most significant upstream issues with a description of the feature/fix they would enable. Please consider reviewing this list and adding your 👍 to any GitHub issues relevant to features you'd like to see!