For instructions on installing the Dart or Flutter extensions, go here.
v3.40.0 2022-05-02
Flutter
#3913: Previews for Flutter icons that begin with reserved terms (like try, class, new, switch) now appear correctly in Dartdocs.
#3912: When the flutter tool is run for the first time by the extension, the Output pane containing welcome text will remain visible instead of closing automatically.
Debugger
#3937: The Debug: Select & Start Debugging command now includes a launch configuration for each available device. Clicking the cog icon will create a specific launch configuration in launch.json for that specific device, regardless of the current selected device.
#3918: Hot Restart no longer sometimes causes errors to be written to the VS Code developer console when an application has more than one isolate.
Commands
#3924: The setting dart.flutterCreateOffline has been renamed to dart.offline and now passes --offline to other commands (such as pub get) in addition to flutter create.
#3920: A new setting dart.devToolsLocation replaces dart.embedDevTools to configure where DevTools should be launched. The default setting "beside" behaves the same as the previous embedding (opening in a tab beside the current editor). "active" open over the top of the current editor (which can be full-width). "external" opens in an external browser window.
Other
Features/Fixes Enabled with Future SDKs
These items rely on changes to the Dart/Flutter SDKs that have not yet been released to stable channels. They will show up automatically when you update your SDK in future (or if using beta/dev channels that already include the SDK parts of these changes).
Server-Provided Code Snippets
#3904: When using a new enough SDK, the local code snippets are suppressed and snippets will be provided by the Dart LSP server. Server-provided snippets are contextual and can adapt to your project settings and language version, including:
Go to Type Definition
#3833: Go to Type Definition allows navigating to the definition of a type of a symbol without first needing to navigate to the symbols definition.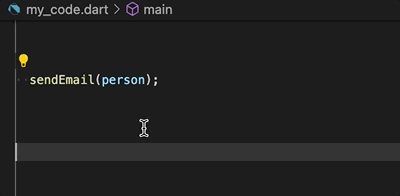 Flutter
#3921: When using the new SDK debugger implementations (dart.experimentalSdkDaps), detaching from a Flutter process will remove breakpoints and automatically resume.
#3837: The --multidex/--no-multidex flag now works correctly for launches of flutter run through the VS Code debugger (including defaulting to enabled).
Editor
Upstream Issues
Some feature requests and fixes require new features and fixes in upstream projects like VS Code and LSP which use counts of 👍s on those issues to help gauge demand. The Dart-Code website now lists some of the most significant upstream issues with a description of the feature/fix they would enable. Please consider reviewing this list and adding your 👍 to any GitHub issues relevant to features you'd like to see!